Friday, May 3
Caller: Dilip Sequeira, Rachel Pusey
Band: Nonesuch Country Dance Band with Romain Kang, Debra Tayleur


Friday, May 17
Caller: Lise Dyckman, Alan Winston
Band: Robin Lockner, William Allen - BASIC WALTZ WORKSHOP Does the call "waltz around the other couple" leave you unsure what to do? Do you sit down when the band plays a free waltz? Lise Dyckman & Alan Winston, with musicians Robin Lockner & William Allen, will unlock the mysteries of basic round waltz. 7:00-7:45 pm, FREE (donations gratefully accepted). Beginners strongly encouraged!


Friday, May 17
Caller: Lise Dyckman
Band: Nonesuch Country Dance Band with Robin Lockner, Romain Kang, William Allen


Friday, May 31
Caller: David Newitt
Band: Humuhumunukunukuapua'a & Strathspey Society Band (Betsy St. Aubin, Bruce Herbold, David Newitt, Heather MacKay, Patti Cobb)


Friday, June 7
Caller: Alex Deis-Lauby [NY]
Band: Audrey Knuth, Debra Tayleur, Robin Lockner


Friday, June 21
Caller: Bruce Hamilton
Band: Nonesuch Country Dance Band with Susan & Bill Jensen


Friday, July 5
Caller: tba
Band: schedule not yet published


Friday, July 19
Caller: tba
Band: schedule not yet published


Friday, August 2
Caller: tba
Band: schedule not yet published


Friday, August 2
Caller: tba
Band: schedule not yet published


Friday, August 16
Caller: tba
Band: schedule not yet published


Friday, August 30
Caller: tba
Band: schedule not yet published


Friday, September 6
Caller: tba
Band: schedule not yet published


Friday, September 20
Caller: tba
Band: schedule not yet published


Friday, October 4
Caller: tba
Band: schedule not yet published


Friday, October 18
Caller: tba
Band: schedule not yet published


Friday, November 1
Caller: tba
Band: schedule not yet published


Friday, November 15
Caller: tba
Band: schedule not yet published


Friday, November 29
Caller: tba
Band: schedule not yet published


Friday, December 6
Caller: tba
Band: schedule not yet published


Friday, December 20
Caller: tba
Band: schedule not yet published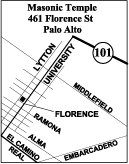 LOCATION:
Palo Alto Masonic Temple, 461 Florence Street (near University), Palo Alto


TIME: 8 pm - 10:30 pm
(a free half-hour lesson begins at 7:30 pm.)


PRICE:
$20 supporters,
$12 non-members,
$10 members
$6 students or low-income
or pay what you can


DRIVING AND TRANSIT DIRECTIONS