BACDS 27th Annual Monte Toyon Spring Weekend Dance Camp March 16th-18th 2007

FAQs! Fragrance Free! Contact us! Location Program Schedule
Where???
In the Redwoods of Monte Toyon Camp near Santa Cruz California

How much???
$155 to $160: work-trade dorm
$190: off-site lodging
$230: on-site tent or camper
$230 to $240: dorm lodging
$75: kids 2 to 5 (under 2 free!)
$95: kids 6 to 11
$170: teens
Buffet Meals Included!

Workshops for callers, musicians, & dancers!
Gender Balance: +/- 15%
All skill levels welcome!

Hillbillies From Mars!
After Hours singing, dancing, & music!
St Patrick's Day Party!
Potluck snacks!

12 hours of Contra!
Square Dancing!
English Country! Waltz! Hambeau! Irish Step!
Schottische!

Bargains! Lodging and meals included!
Stay on-site with the community!
Cookies!

3 Dizzy Days in the California Redwoods with Friendly, Open People!
Callers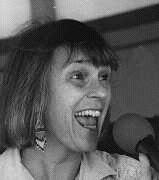 Known for her flowing contras and fast-moving, exciting squares, Kathy Anderson is a strong advocate of well taught, clearly called squares and contras. She has brought her enthusiastic style to dancers across the US, Canada, and Europe, and has long been a favorite caller at dances and dance camps on the West Coast. Her smooth vocal delivery and repertoire of quirky contras and high-energy squares make for a fun, challenging dance experience.
Kathy has been calling and writing dances since 1982. She was introduced to squares and contras as a player of old-time banjo and piano music, and soon progressed from dancing to calling. Dances Kathy has written include Carmen's Hat, The Deep Well, The Long Road, Southern Nights, Swing Into Matrimony, and Weave the Line. Ohio.
BECKY HILL calls frequently at workshops and dance camps, and is an experienced caller of intergenerational dances and programs for special needs populations. Author of Twirling Dervish, a book of contra dances, she has performed with Cleveland Ballet in Ohio and California as the caller for George Balachine's Square Dance. Becky's third book The Rosen Hill Collection is out.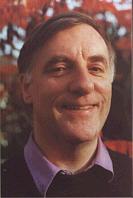 Colin Hume started his folk career as a singer/guitarist, and has performed his own songs on national radio and at the Royal Albert Hall. He then discovered Folk Dancing. Over the last twenty-five years he has built up a reputation as a caller of American Squares, Playford-type dances (English Country Dances in 17th century style), and his own "Dances with a Difference", many of which contain unusual combinations of figures to baffle and/or delight the dancers. His tunes are also different enough to make most bands stop and think. He has published five volumes of "Dances with a Difference", three with corresponding recordings, two volumes of the American-style "Squares with a Difference" and one "New Dances for Old" of Playford-style dances to existing recorded tunes. His book "Playford with a Difference" contains his own interpretations of a number of country dances published in the 17th and 18th century by John Playford and others, and is unique in giving the original wording plus discussion of the various possible meanings of the descriptions and a justification of how he comes up with his own reconstruction. His versions are now danced on both sides of the Atlantic, and he leads workshops on the subject. He believes that dancing is to be enjoyed and that dancers will enjoy it more if they are taught some dance technique, and he was one of the founders of GUSTO (Grand Union Structured Training Organisation) which was set up to run training courses for EFDSS (English Folk Dance and Song Society).
Colin calls at many Folk Festivals and Folk Dance Clubs, and for nine years helped run the "Beginners" sessions at Cecil Sharp House in London every Thursday. He has called at Folk Dance courses in Holland, Germany and Denmark, and for Dance Weeks in the U.S.A. at Pinewoods in Massachussetts, Mendocino in California, Brasstown in North Carolina and Buffalo Gap in West Virginia, plus a week of Dancing down the Nile in Egypt. For many years he contributed a regular column to the EFDSS magazine "English Dance & Song", containing his thoughts on many aspects of the Folk Dance world plus dances by himself or others.

Colin is too outspoken to be everyone's favourite caller, but will appeal to dancers who appreciate an entertaining and varied session including some fairly complicated dances without the reverential attitude to Playford, Tradition or EFDSS that some people adopt.
Musicians
Off to California!
Steve Hickman Steve Hickman is a dance fiddler of great renown. Familiar to many family campers as Dr. Hambone, he has more ways to make music with his body than you can possibly imagine. And he can show you how you can make body music too. At home, Steve is in charge of milking the goats.

Steve has been playing fiddle for dance events around the country for over 25 years. He is also a master of harmonica and a virtuoso of the most portable instrument of all: hambone.
Laurie Andres

Laurie has delighted audiences all over the U.S., Canada and Europe with his extraordinary, versatile and distinctive playing on piano accordion and piano. A master of musical whimsy, Laurie plays with wit, color, emotion and compelling danceability. He plays for contra, square, English country, Morris and clog dancing, performs with several ensembles, including The Rhythm Rollers, and the Kosher Red Hots. He calls an English country dance series in Seattle and has been on staff at Buffalo Gap, Pinewoods and many other music and dance festivals since 1980. Seattle, WA,
John Devine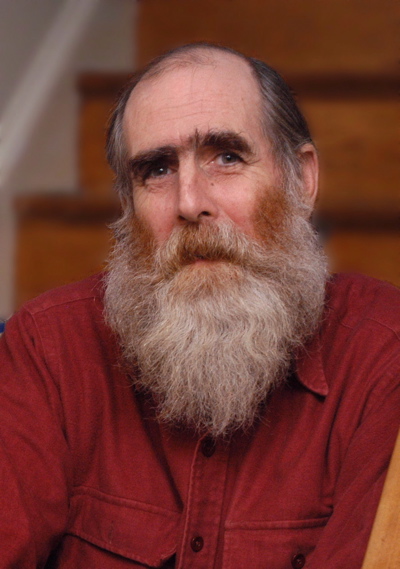 is a traditional musician whose extraordinary talents
have been appreciated by lovers of traditional music and dance in the Washington, DC area and elsewhere for over thirty years. John has played for dancers, festivals, concerts, school programs, and workshops. He often performs with Steve Hickman and they now have a long awaited CD! He plays with numerous other folks, including
Fiddlestyx and Blue Bamboo. John's joy for music is most noted in his exceptional singing and talented guitar playing. He brings strong musicianship, a lively stage presence and authenticity to his music, along with humor and sincerity.
Charlie Hancock plays piano and accordion for contra, English, and Scottish country dancing. He has played for BACDS dances, camps, and balls for 14 years, with occasional gigs further a field, including Pinewoods, Juneau, and the Portland (OR) English ball. He is also a member of Bay Area folk ensemble Euphonia, and has recorded with Sylvia Herold, Holly Tannen, and Cathie Whitesides. (Berkeley, CA)
Kathrine Gardner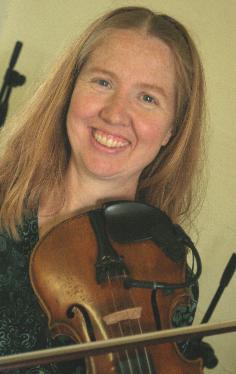 Kathrine has played fiddle and some piano for contra, square, and English dances and dance camps since the mid-80s. Some of her early mentors were Cathie Whitesides, Jeremy Kammerer, and Barry Shultz. She credits Cathie with teaching her how to fit tunes to dances, Jeremy with how to live the itinerant musician's life on a low budget and with honor, and Barry with helping her master the slippery and offbeat ways of Southeastern American fiddling. Lark in the Morning camp deserves mention for providing some of her first opportunities to play for dancing, and for the inspiration to try to make life a
nonstop music party.
She plays with The Guppies and the KJammers. Kathrine lives with husband Kit Nelson near the beach at Half Moon Bay.
The Hillbillies From Mars have been rocking the contra dance scene in the San Francisco Bay Area since 1983. They combine their love and dedication to Celtic and American traditional fiddle music with a healthy dose of their own "folk roots" of rock 'n' roll, swing, Latin and African beats, forging a new tradition of dance music.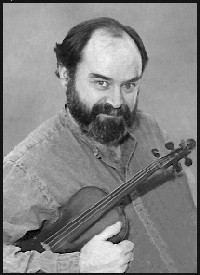 Kevin Carr: fiddle, bagpipes, accordion, banjo, vocals, storytelling
Kevin's powerful fiddling forms the backbone of the Hillbillies' French Canadian and Irish repertoire. In addition, he adds musical texture through his virtuosity on the Irish bagpipes and diatonic accordion. Kevin is also an accomplished storyteller using Celtic and Appalachian sources. (Oregon)
Ray Bierl: fiddle, guitar, vocals
Ray's background in Appalachian and Cape Breton fiddle styles adds another dimension to the group's repertoire. His driving fiddle backup technique shifts squares and contra dances into high gear. Ray is well known on the west coast as a folk singer, and his country and cowboy songs are often featured in the Hillbillies' performances. (California)
Paul Kotapish: mandolin, guitar, percussion
Paul's versatility on the mandolin and guitar have made him a long-time favorite in the traditional music scene. His rock solid rhythms and harmonic textures form an integral part of the Hillbillies' sound. Paul has recorded and toured internationally with several bands, including Kevin Burke's Open House. (California)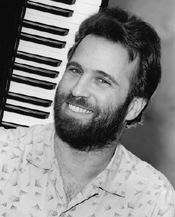 Daniel Steinberg: keyboards, flute, percussion
Daniel's polyrhythmic piano/synthesizer backup and dynamic flute playing fill out the band's sound. The Hillbillies perform many of his original dance tunes and feature his innovative arrangements of traditional material. Daniel's workshops in French Country Dance and Instant Choir have received rave reviews at dance festivals around the country. (California)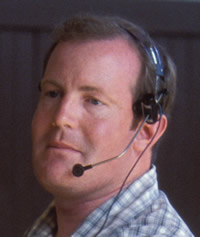 Michael Murphy is a native San Franciscan who has been a member of the Cooley-Keegan Branch of Comhaltas Ceoltoiri Eireann since 1985. It was there that Michael became fanatically interested in Set Dancing. Although already knowing about 3 Set dances in early '90's, Jim Belcher introduced heavily this older style of Irish Dancing to Cooley-Keegan in 1993, and Michael was hooked ever since. Michael began teaching Ceili Dancing in 1996 and Set Dancing on a regular basis in 1998; mostly at Scruffy Murphy's Pub in Sunnyvale. One can still see Michael dancing away at the Plough and Stars Pub in San Francisco.

Carlo Calabi has been playing guitar and singing old time country, folk, cajun, bluegrass, cowboy, and English drinking songs and sea chanties since he was a coyote pup in 1963. He works part-time as a vineyard and winery mechanic, is still trying to finish his castle, and is a member of The Cajun Coyotes. Carlo's song-leading has been delighting Spring Weekend attendees for over ten years.
Other Staff
Charlie Fenton, Programmer, San Francisco Bay Area
Robin Cohen, Camp Manager, San Francisco Bay Area
Marty Brenneis, Sound Reinforcement, San Francisco Bay Area
Jim Strope, Latest Web Guy, San Francisco Bay Area
Last Updated: Feb 21, 2007