Welcome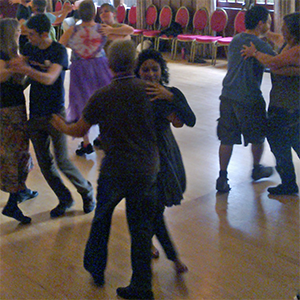 Contra College (March 11-12, 2017) will be an urban weekend in downtown Palo Alto, California, focused on teaching Contra dance to new and intermediate dancers, and where experienced dancers can improve their skills, help newer dancers, or practice the other gender role.
Here is your weekend opportunity to quickly become more proficient at Contra dance!
Build community with a small group of like-minded learners!
This is a great opportunity to help a friend or partner become comfortable with Contra dance in a relaxed, low-stress setting.
The weekend will be from Saturday 9:00 a.m. to Sunday at 3:00 p.m. and includes the Saturday night (8:00-11:00 p.m.) Palo Alto Contra Dance and Sunday afternoon (4:00-7:00 p.m.) Contra College Graduation Dance (open to the public). In total, there will be 11 hours of Contra College sessions and 6 hours of regular contra dance time.
An integrated curriculum and careful pacing will allow dancers to build skills slowly over the course of the weekend and to internalize what they've learned as they go along. There will be plenty of explanations and question-and-answer time. The group's small size will allow for individualized attention and the dances will be selected to help everyone gain confidence and feel at ease. The carefully-crafted curriculum will emphasize dances that are simple while still being varied and well-choreographed.
On Saturday at noon, there will be a Callers' workshop for new and experienced callers that will be led by Susan Petrick. Attendees will be guest callers at the Sunday afternoon Contra College Graduation dance.
The cost of the weekend is $125, which includes teaching, music, dancing, meals and snacks, and the Palo Alto Saturday night and Contra College Graduation afternoon dances. Early registration (postmarked by January 20, 2017) is $100. Some financial assistance is available; so, don't let finances stop you from attending and learning! See details on the registration form.
The callers/teachers for the weekend are Jacqui Grennan and Susan Petrick and the music/teacher is Jim Oakden. Jacqui is from the Los Angles area, and Susan is local to the Bay Area, and both have called dances and been involved in weekends across the country. Jim Oakden is a musician, teacher, and dancer, and brings a huge breadth of knowledge and experience to inspire people to move on the dance floor. Live music for Saturday will by Jim Oakden and Shria Kammen, and on Sunday by Ben Schreiber and Michael Sokolovsky. On Sunday afternoon, Uncle Farmer (Ben Schreiber and Michael Sokolovsky) will play for the Contra College Graduation Dance with calling by Susan Petrick and guest callers from the Callers' Workshop.
For more information on the staff, schedule, program, or registration process, please select the appropriate topic at the top of the page. To read more about the Contra College weekend, please read the article found on page three of the December 2016 issue of the Bay Area Country Dancer.
Out-of-town dancers are encouraged to inquire about housing with local dancers.
Contra College Alumni – How can you support the College?
The goal of Contra College is to enable every person, who wants to attend, to participate in this unique learning environment. Here are two ways that you can help.
Re-enroll in Contra College to brush up on your skills, and help in the learning process.
Contribute to the Contra College Scholarship Fund. By contributing to the Scholarship Fund, you can help provide the opportunity for someone who (for whatever reason) would otherwise not be able to attend. What a gift!
For more information or making a donation, please contact David Buesch (Organizer).
Dance Angels
Experienced dancers are encouraged to attend the entire Contra College, and there are always things to learn and ways to help others gain experience. Numerous experienced dancers have expressed their interest in supporting the College, but might not be able to attend the entire weekend. These experienced dancers, who might be known by many names including Dance Angels, are welcome to attend to balance the lines and enrich the learning experience.
Not everyone is cut out to be a Dance Angel, but if you want to be an angel, please ask yourself if these are the ways you can contribute.
Can you dance to the level of the momentary partner (don't try to bring them to your level)?
Can you dance the choreography without twirls or flourishes?
Part of the last session on Sunday will touch on this topic, so can you focus on choreography and dance of the moment?
Can you let the instructors describe the figures and how to do them?
The instructors are well known for their good descriptions, but if you see or hear something that could be clarified, then please ask for the benefit of everyone.
Can you attend one or more entire Saturday morning or afternnon or Sunday afternoon instructional blocks?
Can you help us have angels distributed throughout the weekend?
That is, not everyone is at the Sunday afternoon instructional block.
Location
Contra College 2017 will be held in the upstairs Fellowship Hall at First United Methodist Church of Palo Alto, 625 Hamilton Ave., Palo Alto California, 94301, the main location of Palo Alto Contra Dance. It is approximately one mile from the Palo Alto CalTrain stop and a short walk from University Avenue. The church has a small parking lot in back with parking on nearby streets and public parking garage one block away.